SourceForge.net is running the first annual Community Choice Awards! It's objective is to recognise innovative, revolutionary or just plain useful Open Source projects that are shaping the technology landscape.

ClamWin Free Antivirus was nominated in the Security Category. We would like to extend our warm Thank you to all supporters.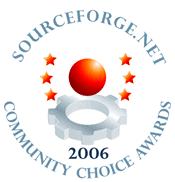 Winners will be announced at the Slashdot Lounge at LinuxWorld Expo, Boston, April 5, and will be posted on this site on April 6.
© 2023 ClamWin Free Antivirus
ClamWin™ is a trademark of ClamWin Pty Ltd.
Other trademarks are the property of the respective trademark holders.
Privacy Statement
Saturday, 23 September 2023